Mini Golf Rentals Nashville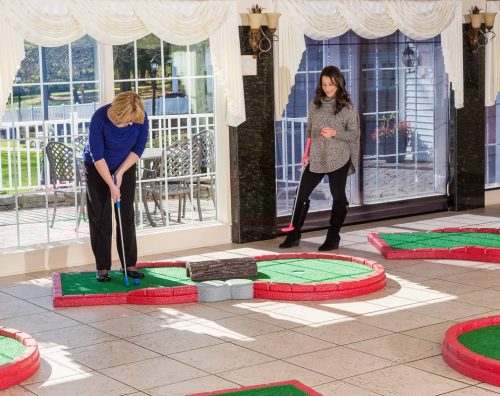 Get your party or event booked in a few clicks!
If you're looking for the best portable mini golf rentals Nashville has to offer, you've come to the right spot! Music City Mini Golf is proud to serve all of Greater Nashville and the surrounding areas. With our convenient online ordering process, booking your next party or event is a breeze. Nashville Mini Golf Rentals are great for Corporate Events, Church Events, School Events, and backyard parties! We deliver our portable miniature golf course, balls, and putters to your location. We provide the scorecards and pencils too! When you're ready for an all-in-one, hassle-free event, choose Music City Mini Golf. Renting a portable putt putt course in Nashville has never been so easy. Simply click the link below to select your time and date, then select your item(s) and enter your event information. It's as simple as that, click "BOOK NOW" to get started playing with your Nashville Mini Golf Rental today!
Nashville Mini Golf Rentals Selection!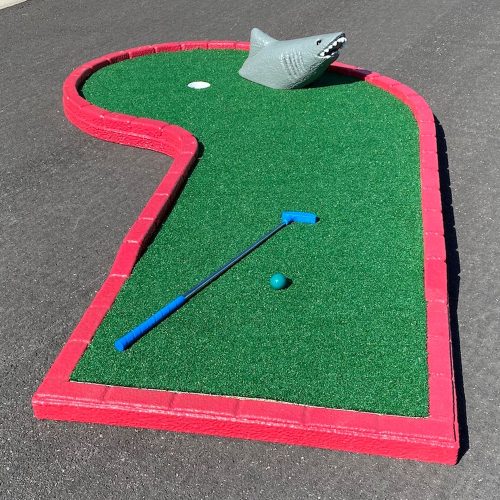 Professional Mini Golf Course Rentals
The top-of-the-line portable mini golf course rental is finally here! Our Professional Mini Golf Course rental is everything you would expect at a permanent miniature golf complex, except we bring the fun to your venue! The Professional course is the standard for corporate, churches, schools, and even backyard events. Portable mini golf can be enjoyed by all ages, with every rental you will receive 9-Holes, 27 Clubs of various sizes and colors, vibrant golf balls, scorecards and pencils! Compete head to head with your coworkers and friends, putting your way to victory. Firstly, if you're looking for that "unique attraction" to be the center of the party, the professional mini golf course is the course for you. Secondly, Each hole will have a different obstacle, some can be moved around to fit your needs, or removed entirely to make it easier for guests and partygoers. In other words, Playing putt putt golf in Nashville is so much fun when you rent from Music City Mini Golf!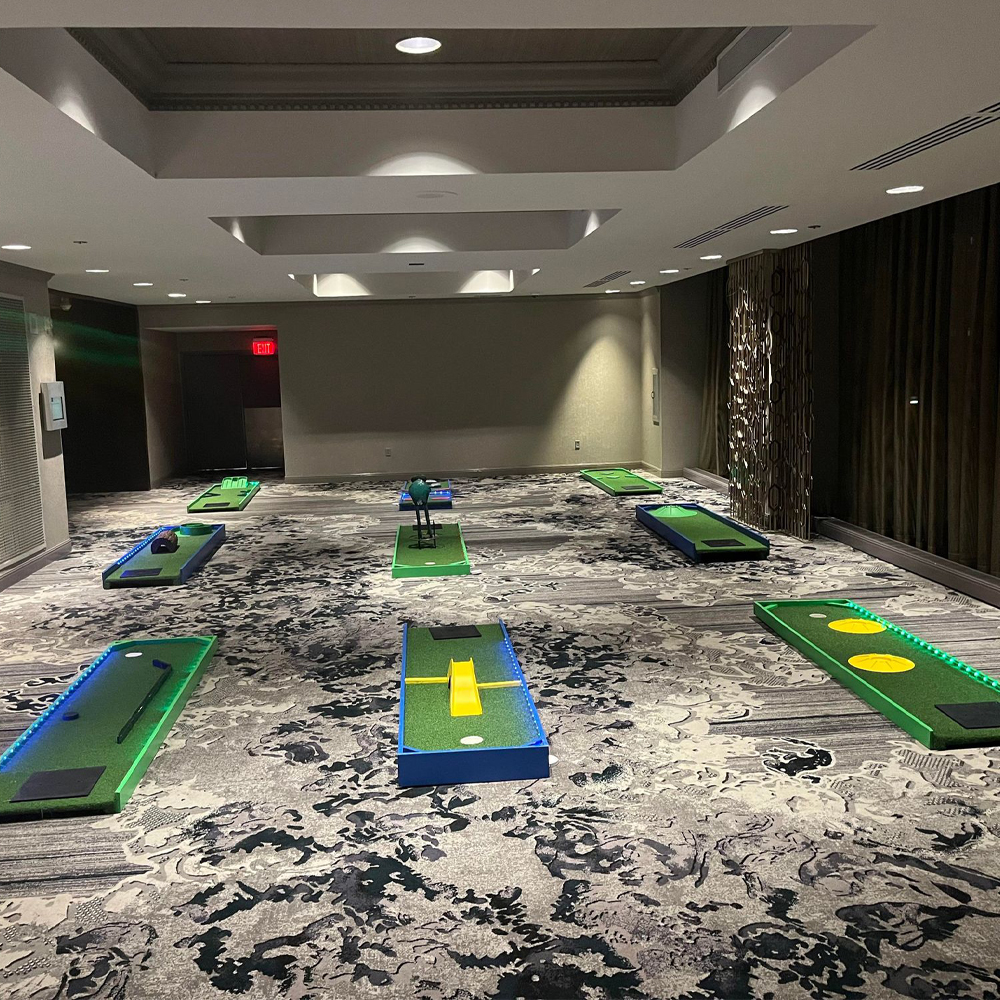 LED Mini Golf Course Rentals
When it comes to Nashville LED Mini Golf course rentals, NOBODY beats Music City Mini Golf. Watching your golf ball roll down the green towards the hole looks better under the stars with the LED Lighting on. There is nothing that can compare to the premium experience of playing golf in your favorite place on a warm summer night with your friends and family around you. Even if you come in second place, you'll still feel like a champion. Choose Music City Mini Golf for the best portable mini golf rentals Nashville has to offer and become the putt putt course king. If you are looking for a mini golf rental outside of Nashville, we would love to be at your event. We serve all 50 states, the cost for delivery varies based on mileage. We are able to add LED's to our professional course as well, since our LED mini golf course rental is our most popular rental, we have two versions to fulfill our customers needs.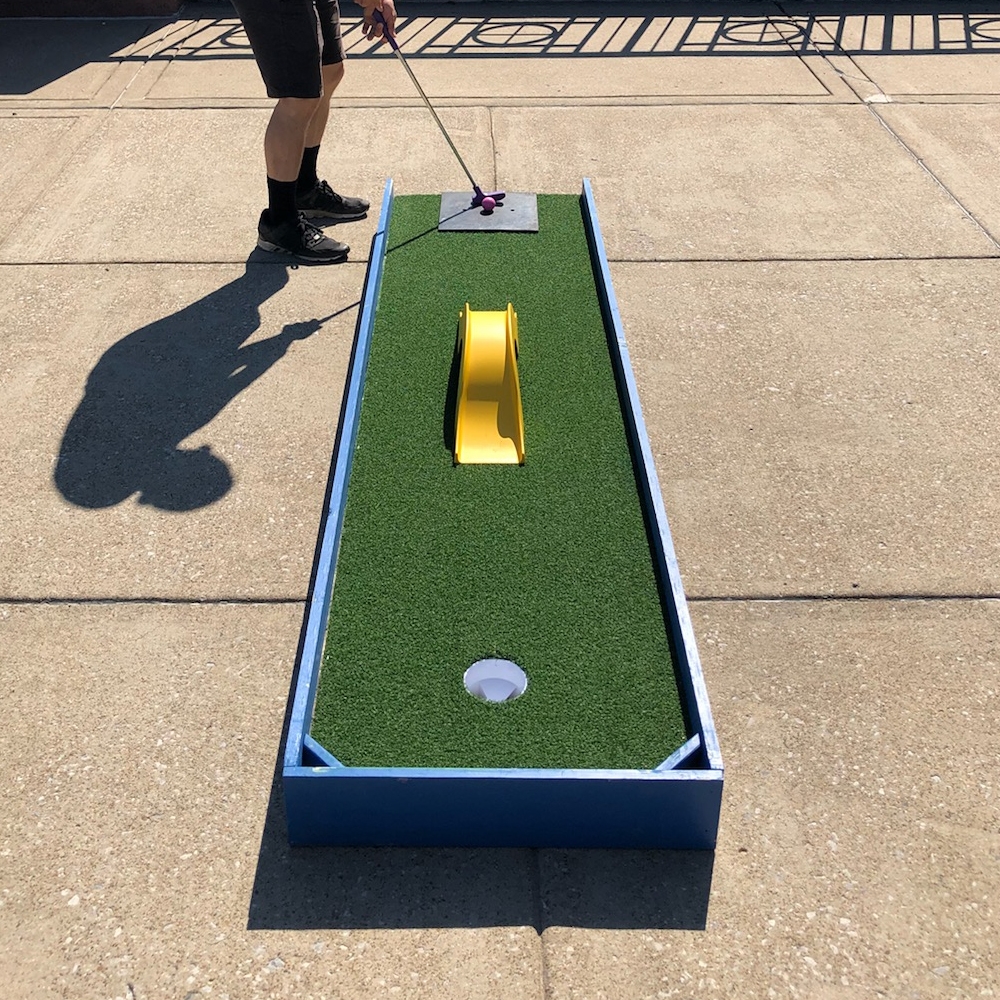 Basic Mini Golf Course Rentals
We know that cost is an important factor when it comes to choosing the right rental equipment for your event. That is why we prioritized bringing the fun at a reasonable and affordable price. For example, Music City Mini Golf is the ONLY event rental company that has a variety of courses to choose from. We specialize in brining affordable fun to Nashville! When you still want to play a round of 9-hole miniature golf and not "break-the-bank," our basic mini golf course rental is the right choice for you. You still receive 9-holes, obstacles, 27 putters, vibrant golf balls, scorecards, and pencils for an affordable price. Who said that putt putt course rentals Nashville had to cost an arm and a leg? We are a group of honest, hard workers with transparent pricing on our equipment and your custom quote!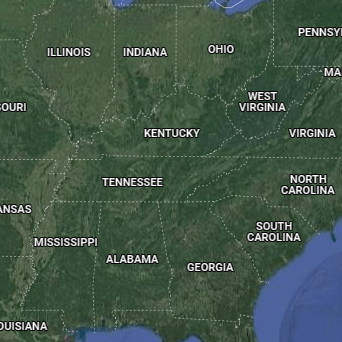 SERVICE AREA: Nashville and Beyond!
Music City Mini Golf is proud to serve a large portion of Greater Nashville. Some of the great communities we serve include Brentwood, Franklin, Spring Hill, Thompson's Station, College Grove, Arrington, Nolensville, Murfreesboro, La Vergne, Belle Meade, Green Hills, Bellevue, Pegram, Kingston Springs, Fairview, Dickson, Clarksville, Ashland City, Pleasant View, Charlotte, Hickman, and many other surrounding areas. We also travel anywhere in the United States for a mileage fee! We proudly serve Kentucky, West Virginia, Virginia, North Carolina, South Carolina, Georgia, Florida, Alabama, Mississippi, Louisiana, Arkansas, Missouri, Illinois, Indiana, Ohio, and more! Providing the best service possible is our number one priority and focusing on the cities listed above allows us to be able to give top-notch service while offering incredible value to our customers. We are always expanding our list of cities and zip codes that we deliver to, but if you do not see your zip code, feel free to give us a call and we'd be more than happy to recommend a great company in your service area.